Name of product
The Standalone Access Control System is specially design with proven and reliable technology whereby it contains Built-In Integrity Monitoring System for maximum reliability.
The Architecture is easy to install without any PC to operate. Therefore, it is easy to use, easy to program and easy to maintain.
Benefits
No
Item
Benefits
1.
Simple Design
– Easy to use
– Easy to maintain
– Easy to program
2.
Pin Only Access
– Use 4 digits secret code to access
– Multiple sets of code
– Codes can be re-programmed easily
3.
Proximity Card Technology
– Easy to use
– Reliable technology
– High durability
– Just touch the card to access
4.
Standalone Architecture
– Easy to install
– No PC is required to operate
– LED and audio buzzer indication
Features
No
Features
XP-SK32
XP-SR200K
1.
Standalone Operations
Yes
2.
Onboard Memory EEPROM
Yes
3.
Pin Access
Yes (32 sets)
Yes (10sets)
4.
Card User Capacity
N/A
200
5.
Keypad
Yes
6.
Continuous Card Read when door is opened
N/A
Yes
7.
Onboard Buzzer
Yes
8.
Firmware Flash Memory
Yes
9.
Polarity Protection for Power Input
Yes
10.
LED Indication
Yes
(Red & Green)
11.
Durable Epoxy Coated Keypad
Yes
12.
Power 12VDC
Yes (150mA)
Yes (250mA)
13.
Dimension (H x W x D)
125mm x 94mm x 30mm
14.
Configurable Lock Release Time
Yes (1-99)
15.
Configurable Door Open Time
Yes (1-99)
16.
Controller/Reader Mode
No
Yes
Configuration Diagram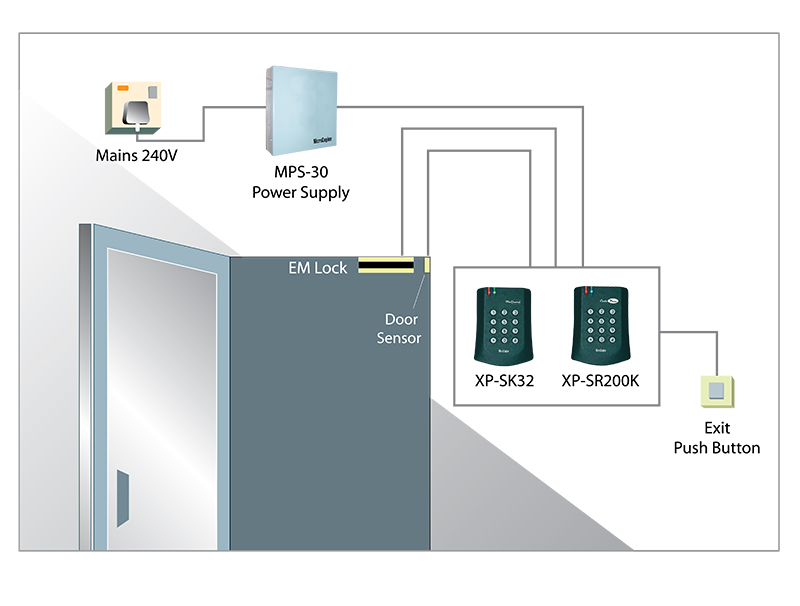 We will deliver within 3 hours if the scope of delivery ≤ 30km from the store, separate purchase orders will be delivered online within 2 hours for orders with a value of 200,000 VND or more and apply for all sectors. We will delivery within 05-07 days for delivery range from 100km to 200km from store For orders with delivery range from 30km - 100km, the salesperson will directly agreed delivery time to customers. Before shipping, logistics department will contact customers to schedule time, specific location for delivery to customers. Time Delivery and installation: from 8:30 to 21h30 every day of the week.
Request pay change is considered valid if fully agreed the following conditions: - Products must change payment including registration forms and change delivery of VAT invoice store - Products are shipped with the complete accessories (including manuals, warranty cards, product packaging, ...) and gifts together (if any). - Products still in the validity period for the return / exchange (7 days or 14 days of receipt of goods - depending on the policy applies). Effective duration is calculated starting from the date of receipt of goods until the customer sends the item as noted on the postal consignment. - No support for change pay no satisfactory reason for the policy line installment payment.