Name of product
The XP-GT3200L Access Control System is designed to meet the high standards required in security for today and in the future. Attached with the fingerprint verification unit, the XP-GT3200L is able to cater for different levels of security needs and applications. The user may opt to install a card identification first and still have the option to add the fingerprint verification when the need arises.
The XP-GT3200L itself boast a rich suit of features and capabilities. Built with high density memory offered by flash technologies, it can cater to a card user capacity of up to 3,200 and transaction record capacity of up to 20,000 to cater to applications ranging from residential, commercial, industrial and even public sectors. 99 numbers of Time Set and Time Zone provides the user with the flexibility to control the access level of each user up to the minute. Its capability to offer different features when operating under Door Access and Time attendance also enables it to provide a more complete solution under these circumstances.
Features
No
Features
Functions
1.
Card User Memory
3,200
2.
Transaction Records
20,000
3.
Single Unit Reader, Keypad & Controller
Yes
4.
Build-In Card Reader
Yes – EM Card (Mifare Card Model Available)
5.
Access Operation Mode
Card Only, Card + PIN, Fingerprint
Card + Fingerprint, PIN + Fingerprint
Card + PIN + Fingerprint
6.
Fingerprint Template Capacity
1:N
3200
1:3200
7.
Display
128 x 64 Graphic Display with Back Light
8.
Keypad
Touch Sense Keypad with Backlight
9.
Time Set & Time Zone
Yes (10 set)
10.
Holiday Dates
30
11.
Auto PIN
Not Available
12.
Built-in Real Time Clock with Battery
Yes
13.
Car Park Mode External Entry Reader
No
14.
Exit Reader
Yes – Use MAS-RBT to connect the Entry and Exit Unit
15.
Exit Push Button
Yes – with Time Zone Control
16.
Support Wiegand 26-bit Reader
Yes
17.
Anti-Passback
Yes
18.
Controller Operation Mode
Access Control Mode
19.
Supports Programming Through Keypad
& LCD at the Reader
Yes
20.
Lock Control, Door Sensor & Exit Button Input
Yes – Through MAS-RBS Located Inside the Door
21.
Configurable Lock Release Time
Yes – 0-99 secs.
22.
Configurable Door Open Time
Yes – 0-99 secs.
23.
Auto Lock Release Time Zone
Yes
24.
Sensor & Output
No
25.
Data Flash Memory
32MBit
26.
Onboard Buzzer
Yes
27.
Communication Ports
RS485 / LAN
28.
Can be Linked to PC for Software Control
Yes
29.
Power
12VDC
30.
Dimension
131mm (H) x 158mm (W) x 65mm (D)
Configuration Diagram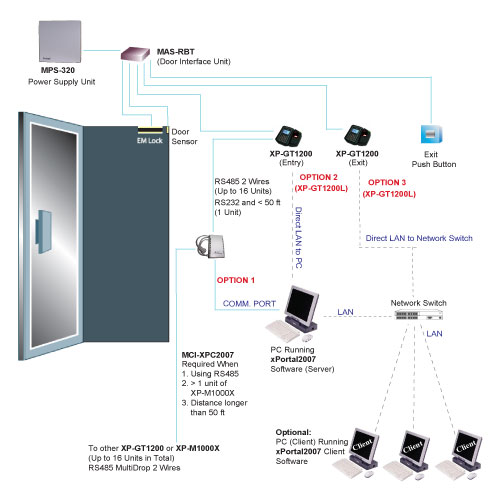 We will deliver within 3 hours if the scope of delivery ≤ 30km from the store, separate purchase orders will be delivered online within 2 hours for orders with a value of 200,000 VND or more and apply for all sectors. We will delivery within 05-07 days for delivery range from 100km to 200km from store For orders with delivery range from 30km - 100km, the salesperson will directly agreed delivery time to customers. Before shipping, logistics department will contact customers to schedule time, specific location for delivery to customers. Time Delivery and installation: from 8:30 to 21h30 every day of the week.
Request pay change is considered valid if fully agreed the following conditions: - Products must change payment including registration forms and change delivery of VAT invoice store - Products are shipped with the complete accessories (including manuals, warranty cards, product packaging, ...) and gifts together (if any). - Products still in the validity period for the return / exchange (7 days or 14 days of receipt of goods - depending on the policy applies). Effective duration is calculated starting from the date of receipt of goods until the customer sends the item as noted on the postal consignment. - No support for change pay no satisfactory reason for the policy line installment payment.